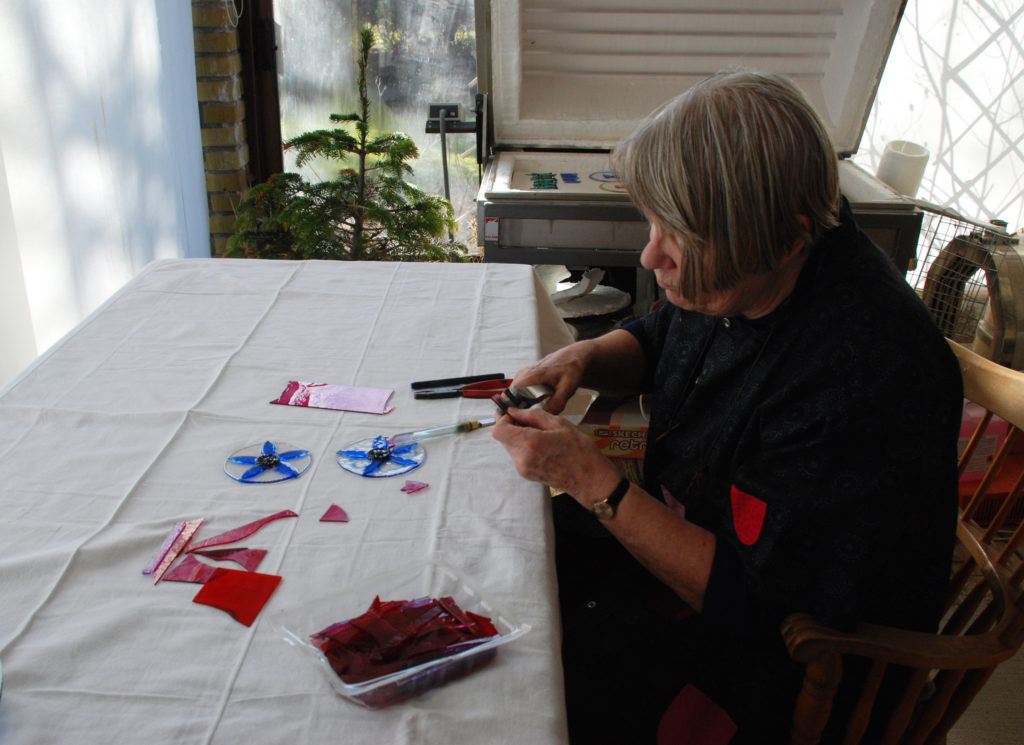 Work as teacher
1975 I started the first course as an autodidact in glasspainting at Studieförbundet Vuxenskolan in Gothenburg. I taught many courses at different schools since then, even 13 courses for teacher education at different folkhighschools in West- and South Sweden.
Education
1981 and 1984 courses in " Hinterglasmalerei" and "Glasmalerei" at Kunst-und-Bildungszentrum  Kloster Geras, Geras/Austria.
1990 and 1991 Fusing-seminarium with Rudi Gritsch, Austria at Geldern/Germany.
1994 Seminarium "Glaskunst in der Architektur" with John Forbes, USA, at Zuerich.
1995 and 1996 Seminarium "Painting with Light" with Narcissus Quagliatra, USA, at Zuerich.
1996 Seminarium "Pate de Verre and Moldmaking" med Linda Ethier, USA, at Zuerich.
1997 Seminarium "Perlen an der Flamme" with Nicole Zumkeller / Erich Seydoux, at Zuerich.
Published books
1977 "Glasmålning" (Painting on glass) , was printed at LT's publisher.
1982 " Glasmålning med smältfärger" (Enamelpainting on glass) , a handbook,  was published at Kursverksamhetens förlag, Gothenburg.
Award
1992  Bronze Prize at the Kristallnacht-Competion , Philaldephia, USA.